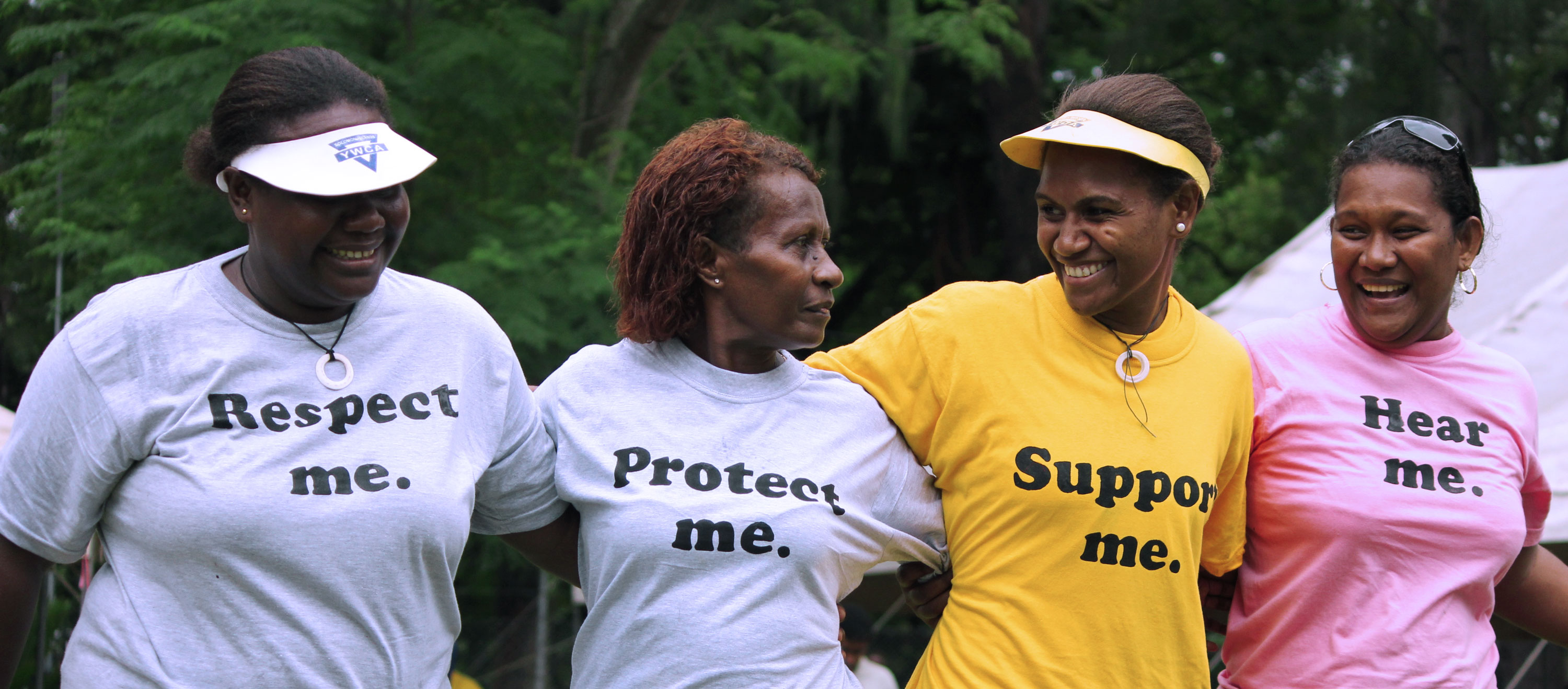 Photo: Solomon Islands YWCA Members Jean Lele, Jocelyn Lai, Alice Kale, and Pauline Soaki celebrate women's achievements for safety and dignity on International Women's Day 2011 in Honiara. Link here to learn more about  SI intergenerational feminist organizing.
Credit: DFAT/Jeremy Miller ©© BY-SA 2.0
By datejie cheko green
Wednesday 8 March 2017 • International Women's Day
Sooner or later, most people discover the organizer within. It could be anything: harassment in the classroom or the bathroom, neglect of home and community, surveillance in stores, at work, in the streets or at borders, violation by leaders, institutions, neighbours or family members.
It could come privately, like being scammed or excluded. It could unfold collectively, like poisoned drinking water, or the destruction and theft of land and livelihood. Or it could be global, like economy-wide layoffs, or the mass desacration and devaluation of public wealth, while financiers and owners slip away on vacation.
These are just a sample of a million indignities that can light the first fire inside, pushing people to choose, to act, and then reach beyond one's self for support and alliance. Together we register petitions, form protests, run campaigns, mobilize safety, walk out, fight back or refuse to engage. We don't wait for cameras or require an audience. We work.
Alongside those fires that resist indignities, there are also a million flames that light our journeys… our persistence in creating the good life as best we can.
These insist on celebrations of just being alive, the everyday and the extra special, where we create the beauty of what we wish the world to be and how we wish to be with it. We cook food, welcome strangers, mobilize meetings, throw parties, care for many, teach lessons, study hard, dig deep to create art and perform love. We give and receive the gifts of stories, from far away, long ago, and down inside. We produce and share and push through in spite and in defiance of threats and fear. We move.
At one time or another, the inner organizer sparks, shines outward through the dark, and we get a glimpse of the many faces we didn't realize are with us, who show us we're not alone.
It's a feeling unlike any other. It's like coming home.
For all who've organized, big and small, we've felt the consuming intensity of the role. In urgent times, it can move from crisis to crisis, from crucial wins to divisive defeats, from dire discouragement to full reconsideration of our intentions, needs and goals.  The pace can be relentless, and beyond the common experiences of insecurity and harm, there is one vulnerability that threatens us most: that we become our organizing and lose our selves along the way.
It's tricky.
The work will be there, and we will keep moving. But we must also be and keep being ourselves… taking time to reflect, to celebrate, to rest and repair, and build home, and come home along the way.
This month, a small group of global organizers from all walks of life will share these and many more stories at the Organizing Equality International Conference, from March 24 to 26. At this unique social activist and scholarly event, we will gather as members, visitors and guests of the Attawondaron, Haudenosaunee and Anishinaabe peoples, in the place and space of their homelands, known colonially as London, Ontario, Canada. Together we will face and engage each other about local and global questions of safety, solidarity and possibility.
If you can't join the meeting, tune into Radio Western CHRW 94.9FM for interviews and live broadcasts.
In the lead up and beyond, we invite you to share your #organizingstories. See our call for submissions.