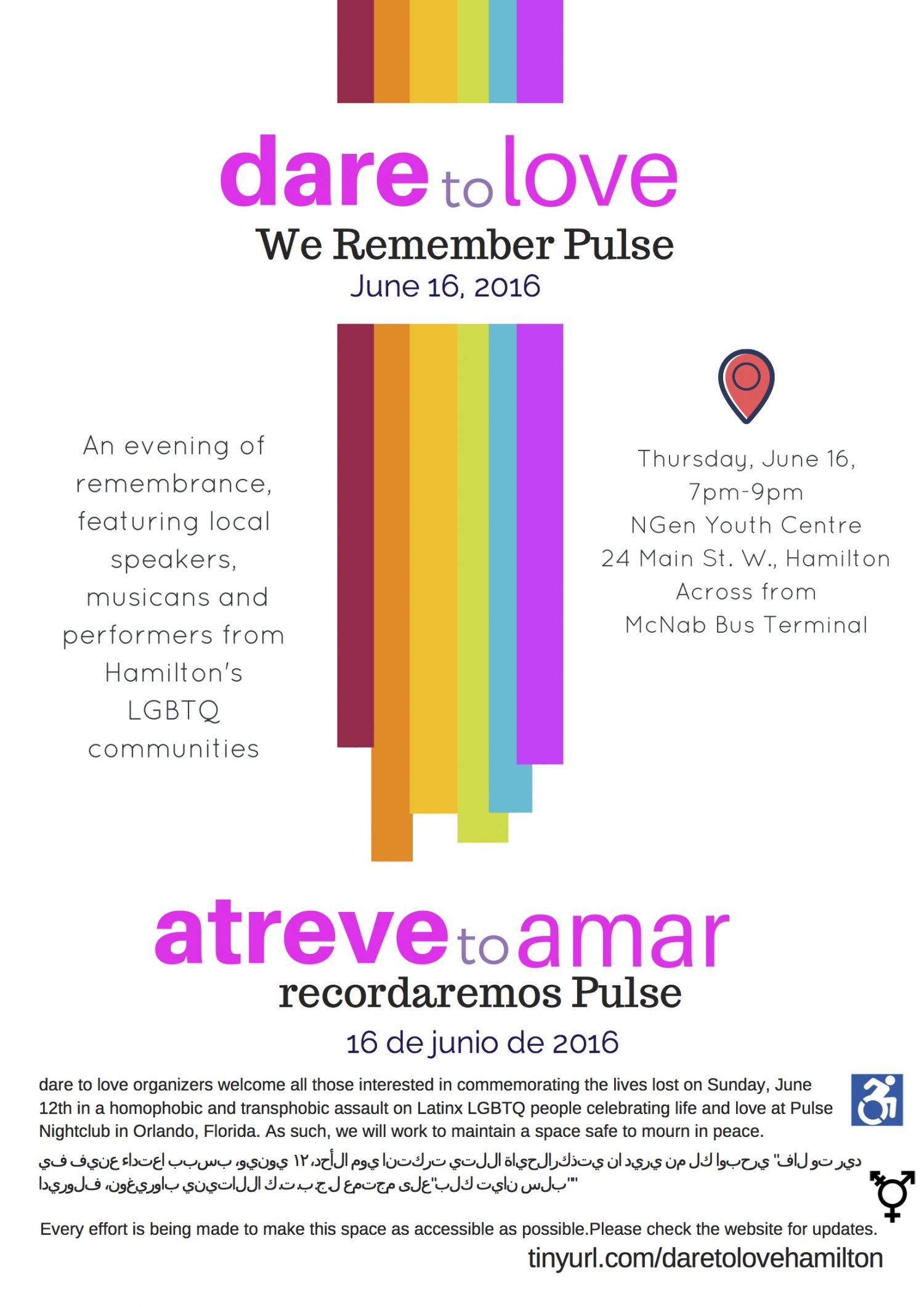 Event details
June 16, 2016
12:00 am - 2:00 am
24 Main St W, Hamilton, ON L8P 1H2
lesi.desi@gmail.com
Event organizing, outreach and poster design by Poe Liberado.
The recent heinous attack at the Pulse nightclub in Orlando, which directly targeted queer and trans Latinx members of the LGBTQ community, has left a lasting effect on LGBTQ people around the world including members of our Hamilton and McMaster communities. In response to this violence, two events have been organized to allow us to come together in solidarity with members of our LGBTQ community and allies, to heal together and to memorialize the victims of this horrific attack.
In an effort to make these events accessible, the following steps have been taken:  wheelchair accessible venues which can be accessed by public transit, multilingual outreach material, ASL interpretation, and active listeners.
Please join us:
Memorial Event
Thursday, June 16
NGen Youth Centre
24 Main St. W. (across from McNab Terminal)
7pm-9pm
Join us for a memorial event honouring the Latinx LGBTQ people killed on Sunday, June 12th at Pulse Nightclub in Orlando, Florida. The evening will include speakers and performances from local Hamilton artists including Kiena Dior and Rex Emerson Jackson. This event is free and open to all interested in mourning in peace. Please share widely.
Together in peace (Arabic):
دير تو لاف" يرحبوا كل من يريد ان يتذكرالحياة اللتي تركتنا يوم الأحد، ١٢ يونيو، بسبب اعتداء عنيف في "بلس نايت كلب"على مجتمع ل.ج.ب.ت.ك اللاتيني باوريغون، فلوريدا"
Together in peace (Chinese):
6月16日,本周四晚,加入我们一起纪念上周日佛罗里达奥兰多Pulse酒吧6月12日枪击遇难者。周四晚上,我们将一起为遇难者默哀,其他活动包括来自Hamilton的社区名人演讲,现场音乐,表演。让我们携手一起勇敢起来,让这个世界充满爱!