Event details
October 20, 2015
12:00 am - 2:00 am
Bahen Centre for Information Technology Room BA1180 University of Toronto 40 St. George St. Toronto / Ateròn:toh Ontario M5S 2E4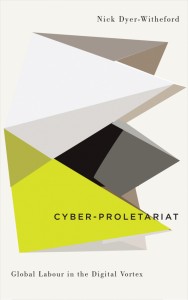 Surplus3: Labour and the Digital
A symposium celebrating the publication of Nick Dyer-Witheford's Cyber-Proletariat: Global Labour in the Digital Vortex (Pluto Press/Between the Lines)
A Letters & Handshakes event in partnership with the Digital Labour Group (University of Western Ontario).
Free and open to the public.
Please join us as we explore a conceptual vocabulary for grasping the contested intersection of labour and the digital in contemporary capitalism.
Marking the recent publication of Nick Dyer-Witheford's book, Cyber-Proletariat: Global Labour in the Digital Vortex, the Surplus3 symposium will open with 3-minute talks by ten guest presenters, each of whom will speak to one concept.
These flash talks will be followed by a presentation by Dyer-Witheford and a collective conversation with our guests moderated by Alison Hearn.
Surplus3: Labour and the Digital will be followed in early 2016 by a freely distributed publication of the same title, designed by Chris Lee, and featuring work by Public Studio.
Guests + concepts
Marcus Boon: depropriation
Brett Caraway: connective action
Nicole Cohen: hustle
Deb Cowen: logistics
Nick-Dyer-Witheford: Cyber-Proletariat
datejie cheko green: intersectional solidarity
Carla Lipsig-Mummé: climate@work
Sarah Roberts: in/visibility
Kamilla Petrick: acceleration
Indu Vashist: indigenisation
Yi Wang: the wage
Moderator: Alison Hearn
Acknowledgements
Letters and Handshakes wish to thank the Digital Labour Group at the University of Western Ontario for generously supporting this project.
For more participant bios and more information:
http://lettersandhandshakes.org/2015/10/05/surplus3-labour-and-the-digital/